This page was last updated: February 2, 2023
HOW DOES IT WORK: 

Gift Certificates are available for purchase below.

They are valid for product or for tours. 

When you purchase a Gift certificate it will be emailed to you.  You can print it out and/or you can email the Gift Certificate to the receiver.  We suggest you also download the tour schedule and add that to your gift certificate.

The Recipient will need to choose a tour from our dates posted. They can preregister for the tour of their choice on the website.  They will need to present their Gift certificate when they attend the tour.

Contact Sandy for information or questions about registering for a tour.  

text 618 251 9646 or email littleshoppe1@charter.net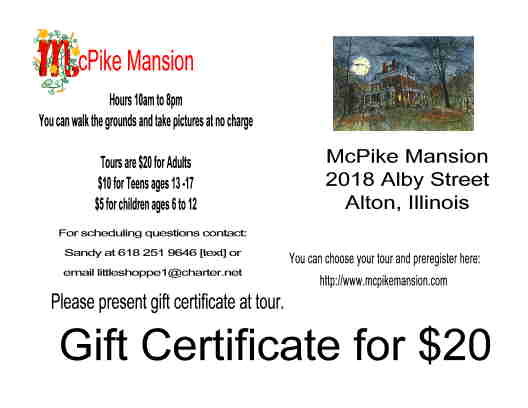 Tour Prices:

Adults :  $20

Teen  13 - 17 years old      $10

Child  6 - 12 year old           $5

Children 5 and under are free.