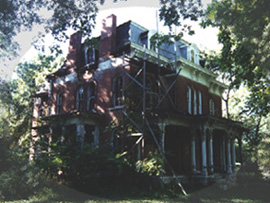 Your continued support in restoring the Mansion is greatly appreciated!

Proceeds we receive from all of our events go towards renovations and restoration of the Mansion.  Please visit our calendar if you would like to play an active part in the restoration of this grand house and it's history.  Please visit our calendar of events if you are interested in assisting in this way.

We also have an online store.  Proceeds from these sales also go towards these costly renovations.  Please feel free to visit our online store for a McPike Mansion souvenir.  Souvenirs are also available at all of the onsite events.

Other programs for helping the house are listed below.

OWN A PIECE OF THE HISTORIC McPIKE MANSION

IN ALTON, ILLINOIS!

Your name forever engraved on a brick, block or bench as a testament that you were a "Friend of McPike Mansion".

Your support will tell future generations of your desire to save this historic landmark.

You'll insure their enjoyment of part of Alton's history.

Commemorative engraved bricks will lead the pathway to the historic McPike Mansion.

They are a perfect way to show support for history while honoring your family, a loved one or a special message.

4" X 8" Brick

with up to 3 lines of engraving

$50.00

12" X 12" Granite Block

$500.00

4-Foot Granite or Marble Bench

$1200.00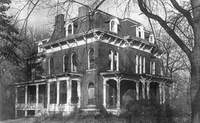 Mail Donations to:

McPIke Mansion

c/o Sharyn Luedke

2038 Alby Street

Alton, IL  62002

or use pay pal buttons below

Join the Pathway to Restoration....

IN LOVING MEMORY

WILLIAM AND MARY SMITH

JOHN SMITH

1ST LT.

U.S. AIRFORCE

THE

SMITH FAMILY

JOHN

MARY

MARGARET

PAUL

DAVID

Questions about the help the house programs? contact Sharyn Luedke at



Receive a "Friends of McPike" Certificate and magnet with a $20 donation.  Magnet holds a brick piece.

OWN A PIECE OF THE MANSION!

4X8 Brick with up to 3 lines of Engravement [see example above] and receive a 5X7 Framed Brick Piece with a $50 donation.

4X8 Brick with up to 3 lines of Engravement and

Receive an 8X10 Shadowbox frame with genuine brick piece $150.00 donation.


To purchase a brick, block or bench follow this link

If purchasing a 4X8 Brick, Engravement for Granite or bench, please download file, fill in the blanks and mail to McPike Mansion, or email document to
sluedke@charter.net